---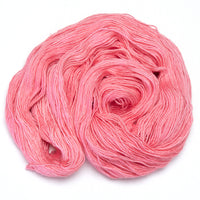 This one of a kind colour is a fairly weird light bright coral, leaning very slightly more towards pink than towards orange, but it's definitely a coral. It's semi-solid, more solid than semi.
--- 

Shiny and silky, starboard is a single ply yarn, perfect for luxurious accessories. (Starboard may look a little kinky in the skein, rest assured it lies flat and smooth when knitted up!)

Yarn Details
Fibre content: 70% superwash merino / 30% silk
Weight: 100g
Yardage: 400 metres / 438 yards
Recommended knitting needle size: 2.25 – 4.00 mm for garments and accessories


Care
Wash carefully by hand in cool water with a few drops of clear unscented dish washing liquid (if needed). Dry flat in shade.
Colours
I try hard to take photos that accurately represent the colour of the yarn, but please note that screens all show colour a little differently. If you have questions about colours, please ask, and I will do my best to describe them for you!